Runabouts, the antique and classic boats typically characterized as a "runabouts" are boats that have individual cockpits for their seating areas. typically boats less than 20 feet will have two cockpits.  They may be together, forward of the engine compartment, or split, one ahead of and one behind the engine compartment. Boats over 20 feet often have thee cockpits and are referred to as "triple cockpit" runabouts. They also have full decks with the engine compartment under hatches. These type of boats were produced in smaller quantities than other types, such as utilities. They were generally more expensive to buy and often had higher quality than lesser models. They also have better aesthetics due to the cockpit design.  As a result, they command higher prices than utility models.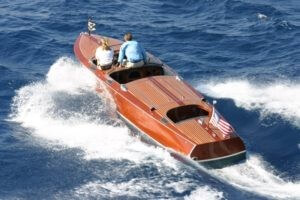 Showing 1–16 of 24 results
1932 Gar Wood 28ft Runabout

$

350,000.00

1932 Gar Wood 28ft Runabout

$

350,000.00

1932 Gar Wood 28ft Runabout.

To the best of our research, "Liberty" is the only remaining Gar Wood 28ft Triple Cockpit with an original Gar Wood conversion engine. Only four of the 28-55 runabouts were built in that year, according to records compiled by Tony Mollica. Gar Wood purchased and marinized the World War I engines as a way to provide lightweight 400 hp engines, first in the Baby Gar 33ft boats and later in a small amount of 28 footers. The Scripps V-12 engines would not be available for a few years later, so in 1932 if you wanted performance, the Liberty V-12 was the option of choice.

Sierra acquired this boat as a complete derelict, sometime in the 70's. Much of the boat's hardware was missing but the engine was still there. Restoration was started in the early 80's and at the time it was one of Sierra's most extensive restoration projects, requiring almost an entire replacement of every frame and plank. That work was done by then employee, Tony Brown, now the owner of Western Runabouts. The engine, as mentioned was there, but in sorry condition. At the time, we did not have the needed spare parts to rebuild it. We did have however, a complete running Liberty that had come out of a 33ft Gar Wood. Refurbishing of the engine and installation was done by Sierra's legendary mechanic, Dave Chanda.

Fast forward to present, the boat has once again had a light re-restoration of the wood and upholstery, entrusted to Tony Brown. The engine was removed by Sierra and master engine builder Cooper Stubbs completely tore down the engine for an inspection and new gaskets. All engine systems were checked over and re-built as needed.

A favorite at the Lake Tahoe Concours d'Elegance, "Liberty" stands out from the crowd. If you have never driven a Liberty powered boat, there is nothing quite like it. 1,649 cubic inches of engine turning at 1,800 rpm with 5″ exhausts. The torque is immense, and every slight turn of the throttle is instantly translated into more speed.

This is a chance to own a truly one of a kind 1932 Gar Wood that has a long history on Tahoe and has been cared for by the best craftsmen on the lake.

ID: LIBERTY
Year: 1932
Builder: Gar Wood
Model: Triple Cockpit
Length: 28ft
Engine: Liberty V-12, 400 hp
Trailer: None
Price: $350,000.00

Get More Info.