Runabouts, the antique and classic boats typically characterized as a "runabouts" are boats that have individual cockpits for their seating areas. typically boats less than 20 feet will have two cockpits.  They may be together, forward of the engine compartment, or split, one ahead of and one behind the engine compartment. Boats over 20 feet often have thee cockpits and are referred to as "triple cockpit" runabouts. They also have full decks with the engine compartment under hatches. These type of boats were produced in smaller quantities than other types, such as utilities. They were generally more expensive to buy and often had higher quality than lesser models. They also have better aesthetics due to the cockpit design.  As a result, they command higher prices than utility models.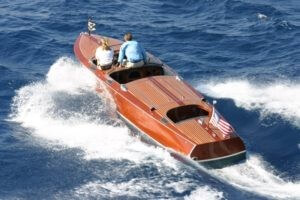 Showing all 14 results
1940 Chris Craft 19ft Custom Runabout "Barrel Back"

$

95,000.00

1940 Chris Craft 19ft Custom Runabout "Barrel Back"

$

95,000.00

1940 Chris Craft 19ft Custom Runabout Barrel Back.

The iconic custom runabout, also known as the Barrel Back, was produced from 1939 to 1942, with a total of 433 hulls produced. They represented the highest level of craftsmanship Chris Craft ever offered because it required skilled craftsmen to produce the full half circle transom shape. These boats were the inspiration for Carlo Riva and his legendary Ariston and Aquarama models.

This 1940 Custom Barrel Back was fully restored and is in excellent condition. It features the two-piece coverboards and the fold down Bugatti style windshields as used in 1939 and 1940.

This 1940 Chris Craft has a west system bottom for "no soaking" usability. Power is by a Chris Craft M engine with 130 hp that was rebuilt in 2016 by Sierra Boat. The rebuilt engine has extremely low hours on it.  The deck and hull sides were fully restored in the winter of 2016/2017 by Sierra Boat as well.

This 1940 Chris Craft is protected by a custom waterline sunbrella cover that was made in 2016.

Don't miss out on one of the most iconic boats of all time!

https://www.woodyboater.com/blog/2015/06/18/thinking-of-buying-a-chris-craft-barrel-back-buy-the-best-or-else/

ID: VIXEN II
Year: 1940
Builder: Chris Craft
Model: Custom Barrel Back
Length: 19ft
Engine: Chris Craft M, 130 hp
Trailer: None
Price: $95,000.00

Get More Info.