Runabouts, the antique and classic boats typically characterized as a "runabouts" are boats that have individual cockpits for their seating areas. typically boats less than 20 feet will have two cockpits.  They may be together, forward of the engine compartment, or split, one ahead of and one behind the engine compartment. Boats over 20 feet often have thee cockpits and are referred to as "triple cockpit" runabouts. They also have full decks with the engine compartment under hatches. These type of boats were produced in smaller quantities than other types, such as utilities. They were generally more expensive to buy and often had higher quality than lesser models. They also have better aesthetics due to the cockpit design.  As a result, they command higher prices than utility models.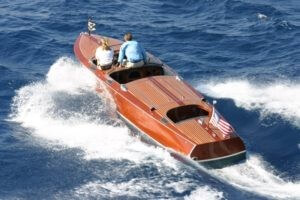 Showing 1–16 of 18 results
1936 Gar Wood 28ft Triple Cockpit

$

250,000.00

1936 Gar Wood 28ft Triple Cockpit

$

250,000.00

1936 Gar Wood 28ft Triple Cockpit

The 28ft Gar Wood was the top of the line runabout. Lake Tahoe probably has more of them then anywhere due to their immediate popularity as one of the best riding boats you could buy at the time. They still hold that distinction, due to a deep bottom and deep coil sprung seats that soak up the bumps.

Raccoon is an older restoration but has been recently refurbished including a complete strip and re-varnishing and new leather seating. She has a West System bottom and comes on a custom-built triple axle trailer. Special to this boat is the 315 hp model 308 Scripps V-12. Thought not original to this hull, the installation was done as the factory would have done it and the most discriminating judge would not be able to tell that it is not original.

The Gar Wood 28ft Triple Cockpit is an elegant boat with a perfect balance of design and proportion. The overall design set off by beautiful hardware and plush leather seating exemplify the great style of the 30's. Think of this as a water going Packard. A perfect boat to take eight people in style and comfort on Lake Tahoe. For more on Gar Wood boats, go to http://garwood.com.

ID: RACCOON
Year: 1936
Builder: Gar Wood
Model: Triple Cockpit
Length: 28ft
Engine: Scripps 308, 315 hp
Trailer: Custom Triple Axle
Price: $250,000.00

Get More Info.