Runabouts, the antique and classic boats typically characterized as a "runabouts" are boats that have individual cockpits for their seating areas. typically boats less than 20 feet will have two cockpits.  They may be together, forward of the engine compartment, or split, one ahead of and one behind the engine compartment. Boats over 20 feet often have thee cockpits and are referred to as "triple cockpit" runabouts. They also have full decks with the engine compartment under hatches. These type of boats were produced in smaller quantities than other types, such as utilities. They were generally more expensive to buy and often had higher quality than lesser models. They also have better aesthetics due to the cockpit design.  As a result, they command higher prices than utility models.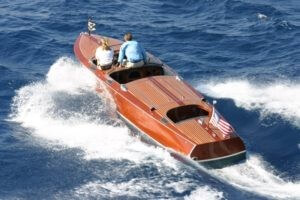 Showing 1–16 of 18 results
1937 Gar Wood 25ft Triple Cockpit

$

339,000.00

1937 Gar Wood 25ft Triple Cockpit

$

339,000.00

1937 Gar Wood 25ft Triple Cockpit.

In 1937 Gar Wood built 267 boats, about 100 more than any other year in the 1930s. Midnight Thunder, formerly Triple Time, is one of only nine 25ft runabouts built in 1937, and one of only three 25-footers equipped with the largest engine option, the Scripps 302 V-12. The favored formula for making speedboats go fast in the 1920s and '30s included a large displacement and low rpm power plant spinning a large propeller. The Scripps V-12 engine, model 302, original to this boat, is no exception to that formula. With a cylinder bore of 4.25 inches and a stroke of 5.25 inches, the displacement totals 894 cubic inches. The engine was said to produce 316 hp at 2,600 rpm.

Midnight Thunder is in excellent condition. From the original Scripps V-12 engine to the period correct original pattern and color leather upholstery. A restoration was completed from 2002-2003 with wood work by Armstrong Boat Works, of Skaneateles, New York, and the engine restoration was completed by noted Scripps specialist George Shinn. The entire bottom of the boat was replaced at this time, including keel, chines, frames, and bottom planking, following Gar Wood specifications. In order to insure reliability and durability, the Scripps engine and transmission were tuned by the experts at Freedom Engine Service in the summer of 2010.

This boat then arrived at Sierra Boat in January of 2013 and has been stored and serviced here ever since. The boat was inspected by Sierra Boat from stem to stern for the Lake Tahoe Concours d'Elgance Boat Show judging. From that inspection a few items were address for the shows with the largest item being new flooring. The engine was set up and tuned for Lake Tahoe's high-altitude boating and a custom full waterline cover was made. In 2014 the boat was fully restored including deck, hull sides and transom. At this time the name was changed from "Triple Time" to "Midnight Thunder" in gold leaf. Miscellaneous mechanical items from the judging sheet were addressed as well.

At the Concours d'Elgance Boat Show in Lake Tahoe, this 1937 Gar Wood 25ft Triple Cockpit won 2014 Best Gar Wood of Show, 2014 Best of Show Over 23ft, 2017 Best in Show, and 2017 Best Engine.

ID: MIDNIGHT THUNDER
Year: 1937
Builder: Gar Wood
Model: Triple Cockpit
Length: 25ft
Engine: Scripps 302 V-12
Trailer: Custom Dual Axle
Price: $339,000.00

Get More Info.