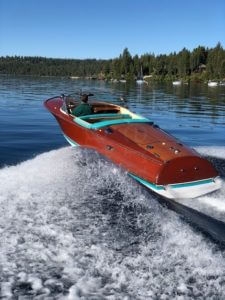 Riva, the name represents the finest of Italian style and craftsmanship. With a tradition of boatbuilding , spanning over 170 years, the brand has a heritage like no other.
In the 1950's Carlo Riva set about to build series produced boats, manufactured in a state of the art factory. Nothing was compromised in the quality of their construction. Perhaps the crowning achievement of this effort was the production of the iconic Aquarama. First produced in 1962, they are the most collected and prized of any mahogany boat. These boats are often compared with Rolls Royce and Ferrari due to their high quality.
Carlo always looked for the finest materials available, which included America built marine engines and German made gauges. New designs were subject to rigorous testing, often by Carlo personally.
To this day, nothing quite performs, rides or handles quite like a Riva. They are extremely well-built and reliable. And no other mahogany boat appreciates in value like these boats do.
Sierra Boat has been importing, maintaining and restoring Riva boats since the late 70's. Perhaps no other company in North America has as much experience with these boats as we do.
Showing the single result
2006 Riva Aquariva 33

$

380,000.00

2006 Riva Aquariva 33

$

380,000.00

2006 Riva Aquariva 33

In the 1950's, under the leadership of Carlo Riva, the company known as Riva Yachts began to cultivate a very prestigious reputation. Because of their dedication to excellence, Riva became the epitome of elegance, craftsmanship and style in the boating world. Using only the finest materials assembled by the most skilled and experienced craftsmen, Carlo Riva built boats for kings and queens, sportsmen, and movie stars.

A direct descendant of the most celebrated Riva of all, the mahogany Aquarama, the Aquariva carries on a boatbuilding tradition which began 168 years ago. It's a flawless evolution of style, as the Aquariva retains that gorgeous stem-to-stern undulation of its predecessors. From the stainless-steel bow fairlead with integrated hawse to the mahogany and maple foredeck to the teak toe rails and swept windshield, it is hands down one of the world's most elegant runabouts.

Currently there are four versions of the Riva Aquariva 33 available; the standard Riva version, the Aquariva Super, the Aquariva Gucci, and the Aquariva by Marc Newson. All four boats are essentially the same but differ slightly in styling and details. All models come equipped with an electronically controlled two-speed gearbox which maximizes the sporting potential of the twin 380-hp Yanmar diesel engines. The engines on this vessel have less than 110.0 engine hours, which add up to a mere 10 hours per year. The agility and responsiveness of the Riva Aquariva is what makes this boat truly special, delivering fast acceleration and a top speed of up to 42 knots with a cruising speed at 36 knots. With twin engines and a bow thruster, the captain can dock this 33ft boat with ease. See http://www.riva-yacht.com

The standard navy-blue hull sets off the dark brightwork and contrasts beautifully with the cockpit's creamy leather and U-shaped aft bench seating. For the captain, a leather helm chair with flip-up bolster provides standing or seated comfort. The Riva Aquariva 33  features a large double berth and a discreet toilet below. For entertaining, there is a pod-style mahogany table, and a wet bar and refrigerator/ice maker. Sun worshipers will appreciate the large transom sun pad, and her swim platform has a ladder for easy water access. Another feature is the electronically activated canopy, which works like a sports car's cabriolet top. Flip a switch and the clever Bimini top shades the helm area and U-shaped seating area.

This Riva has been inspected and serviced by Sierra Boat, a certified Riva dealer. The exterior mahogany wood was refinished in the fall of 2018. This boat comes on a 2004 Magic Tilt triple axle trailer.

This is a great opportunity to own an Aquariva at the fraction of the cost of a new one!

ID: SIP SIP
Year: 2006
Builder: Riva
Model: Aquariva
Length: 33ft
Engine: Twin Diesel Yanmar, 380 hp ea.
Trailer: 2004 Custom Magic Tilt
Price: $380,000.00

https://www.riva-yacht.com/en-us/Models/Photo-Gallery/2-22-38-PUB/Riva-Aquariva-Super

Get More Info.