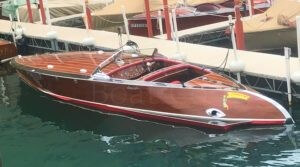 How cool is this. Tomahawk, is a 2003 StanCraft, was custom built for the owner. StanCraft is legendary for some pretty wild creations and Tomahawk is no exception. Built in the "torpedo" style, the shape is actually a modern rendition of Stan Crafts built in the late 40's like this 1945 model.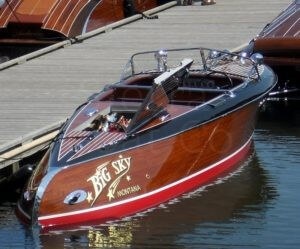 StanCraft Wooden Boat Company was founded back in 1933 by W.H. "Billy" Young and his son Stanley C. Young. The company was originally built on the shores of Caroline Point, Flathead Lake in Lakeside, Montana. It was Flathead Lakes first boat building factory. A regional builder, Stan created some of the most iconic designs in boating history. The 22′ Torpedo in 1945 was a true head turner for the time.
2nd generation builder, Syd Young, son of Stan Young, continued building modern StanCrafts in Coeur d'Alene Idaho. One of Syd's specialties was designing great riding boats and Tomahawk's ride is testament to Syd's design prowess.
When the owner commissioned Tomahawk, he worked with Syd to build something very unique. All of the hardware was custom designed and cast. The windshield is especially impressive. And then there was the engine, a 550 hp Ilmore V-10 based on the legendary Dodge Viper engine.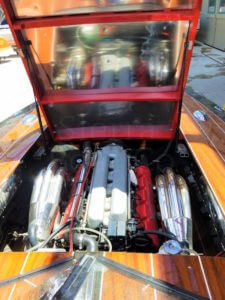 The boat is one of the best boats I have ever driven. Tomahawk just sold and is headed to its new home on Flathead Lake Montana, the birthplace of Stan Craft.