Utility 20′ and Over. Larger utilities have the advantage of more seating capacity as well as the ability to handle rougher water. They are usually equipped with larger engines to accommodate the extra weight and often have a middle seat. They can seat as many a 9 people. Large utilities are less common than small utilities and were typically more deluxe than their smaller counterparts. They are very popular and often command higher prices.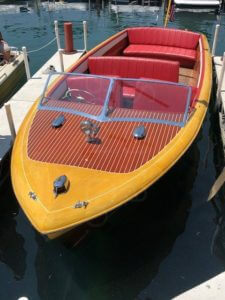 Showing all 3 results
1949 Hacker Craft 22ft Utility

$

75,000.00

1949 Hacker Craft 22ft Utility

$

75,000.00

1949 Hacker Craft 22ft Utility

Hacker Craft's have been hand crafted since 1908 with John L. Hacker being the preeminent naval architect of mahogany pleasure crafts of the last century. Hacker Crafts are considered one of the most authentic American-made brands to this day.

This 1949 Hacker Craft 22ft Utility was limited in production making it rare. It has been said that only 3 of these models exist today. The high quality of construction is consistent with other post war Hacker Crafts produced at that time. The 22ft Utility offers three rows of seating making the layout perfect for cocktail cruising with guest or family adventure on the water.

This 1949 Hacker Craft 22ft Utility is powered by a Chrysler Marine M28 with around 180 hp. This engine performs extremely well with plenty of torque.

In the winter of 2008-2009, Sierra Boat Co. restored the decks, hull sides, transom, and interior bright work as well as new flooring. In 2019 the boat received new bottom paint. This boat features a West System no-soak bottom and is used each summer out of a slip at Sierra Boat Company.

Hacker-Crafts are known for a very comfortable ride, even in rough waters. Don't miss out on this opportunity to own a very rare Utility Hacker-Craft!

https://youtu.be/3–GVy8r9c4

ID: SASHAY
Year: 1949
Builder: Hacker-Craft
Model: Utility
Length: 22ft
Engine: Chrysler Marine M28, 180 hp
Trailer: None
Price: $75,000.00

Get More Info.

1952 Chris Craft 22ft Custom Sedan – SALE PENDING

$

65,000.00

1952 Chris Craft 22ft Custom Sedan – SALE PENDING

$

65,000.00

1952 Chris Craft 22ft Custom Sedan

The Chris Craft 22ft Custom Sedan was produced from 1948 to 1954. They made only 436 Custom Sedans in that 7-year period and this Chris Craft is hull number 381. The Sedan Custom is a popular model due to the convenience of the sedan top that allows you to be on the water but out of the sun when desired.

This 1952 Chris Craft Custom Sedan is an original one owner boat that has been used solely on Lake Tahoe. It has been used by one family out of their West shore lake front home for all these years until now, making its first time on the market since new in 1952. In 2018/2019, the seller had a custom dual axle trailer made by Sport Boats Trailers featuring LED lights, spare tire, and more. In 2019, Northwest Classic Boats in Auburn, CA replaced the entire bottom with a new fiberglass bottom for "no-soak" use. They also added new varnish to the hull sides, transom, and deck. In 2020/2021, Obexer's Boat Company rebuilt the Chris Craft MBL engine. This Chris Craft MBL engine with 158 hp has very little engine hours after the recent rebuild.

In the last three years the sellers have over $75k invested in the boat with records available. Don't miss out on an original one owner, Tahoe only Custom Sedan!

https://www.chriscraft.com/our-story/timeline/

ID: TRUANT
Year: 1952
Builder: Chris Craft
Model: Custom Sedan
Length: 22ft
Engine: Chris Craft MBL, 158 hp
Trailer: 2018 Sport Boat Trailers, dual axle
Price: $65,000.00

Get More Info.

2007 Grand-Craft 24ft Luxury Sport

$

125,000.00

2007 Grand-Craft 24ft Luxury Sport

$

125,000.00

2007 Grand-Craft 24ft Luxury Sport.

Grand-Craft's are handcrafted mahogany runabouts embodying the classic design and enduring spirit of the 20s and 30s. These boats are influenced by classic American design and built with every modern convenience for superior performance. After almost 40 years of building mahogany boats, Grand-Craft continues to thrive with the highest level of quality craftsmanship.

The Luxury Sport design offers comfort, nimble handling, and ample room for day boating with friends and family. The wide beam translates into ample cockpit room; four couples can sit comfortably in the two forward seating areas and the plush bench seat across the stern welcome's additional guests. The hull design delivers confidence in the open water when handling rough conditions. The higher freeboard makes you feel safer, yet you still feel the trill of the Luxury Sport's outstanding performance.

This Grand-Craft comes equipped with twin Crusader 6.0 MPI's which offers impressive speed even at Tahoe's high altitude. The engines have low engine hours on them and have been in fresh water only. The boat was built in 2007 for its current owner and has been stored and serviced by Sierra Boat since new. The boat received fresh varnish coats in the fall of 2018 and is currently in excellent condition.

ID: LOLA
Year: 2007
Builder: Grand-Craft
Model: Luxury Sport
Length: 24ft
Engine: Twin Crusader 6.0 MPI, 375 hp ea.
Trailer: None
Price: $125,000.00

Get More Info.