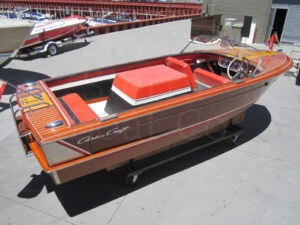 19′ and Under Utility boats are perfect for the person getting started in the Antique and Classic Boat hobby. They are usually priced much lower than comparably sized Runabout models and are easier to take care of. They are easy to trailer and with correct power, are well suited to watersports. They typically have a front and back bench seat with a motorbox in the middle. Seating capacity will be 5 to 6 persons.
Showing all 3 results
1946 Gar Wood 19ft Utility

$

65,000.00

1946 Gar Wood 19ft Utility

$

65,000.00

1946 Gar Wood 19ft Deluxe Utility.

In 1945 as World War II wound down to its final campaigns the new management of Gar Wood Industries decides to restyle their boat line with a completely new look. The new designs were superb and worthy of the great Gar Wood tradition.

This 1946 Gar Wood is fully restored and in excellent condition. The boat has a West Systems bottom on it. It has a Chrysler Crown M47 engine with 135 hp. The blue and grey leather upholstery is in very good condition with matching grey flooring. The boat comes on a 2019 Tahoe Trailer Works tandem axle trailer. This is a unique opportunity to get into a turn key Gar Wood Utility!

https://www.garwood.com/index.php/gar-wood-history/

ID: THAT TOO
Year: 1946
Builder: Gar Wood
Model: Deluxe Utility
Length: 18'6''
Engine: Chrysler Crown M47 135 hp
Trailer: 2019 Tahoe Trailer Works, Tandem Axle
Price: $65,000.00

Get More Info.

1957 Chris Craft 17ft Sportsman

$

10,000.00

1957 Chris Craft 17ft Sportsman

$

10,000.00

1957 Chris Craft 17ft Sportsman.

The 17ft Sportsman is perfect boat for small lakes and trailering. The utility design allows for recreational use and cruising with guests. This 1957 Chris Craft is powered by a 131 hp Chris Craft KFL engine that was fully re-built in 2016 by Sierra Boat Co. and has less than an hour on it of mechanical test time. This boat has an original bottom that does soak up, but a bottom replacement will be needed in the future. The varnish is in good shape, both on the deck and hull sides. This boat has been in the care of Sierra Boat for a long time and has been maintained and stored by us for use on Lake Tahoe. It is believed that this boat is original to Lake Tahoe. It does not come with a trailer. Price to sell!

https://www.chriscraft.com/our-story/timeline/

ID: MOSHI MOSHI
Year: 1957
Builder: Chris Craft
Model: Sportsman
Length: 17ft
Engine: Chris Craft KFL, 131 hp
Trailer: None
Price: $10,000.00

Get More Info.

1960 Century 19ft Resorter

$

19,500.00

1960 Century 19ft Resorter

$

19,500.00

This is a 1960 Century 19ft Resorter.

The 19ft Resorter is an excellent boat, but most people can't get past the unusual square nose. After this boat suffered some damage to the bow, the owner decided to rebuild the bow with a proper pointed nose. The repair changed the look of the boat and made it more desirable.

Sierra Boat has maintenance records and has performed the work done on this boat. The deck varnish is in excellent condition and the hull sides and transom are in good condition. The upholstery, engine box and dash gauges were all new in 1998. The boat was last used in 2003 so it had very little use after the work was done. The boat is powered by a Ford Interceptor motor with 250 hp. Sierra Boat fiberglassed the bottom which had some minor repairs done to it in 1999. The fiberglass bottom is solid and is in good shape but will need some repairs before going back into the water.

This Century Resorter is the perfect family ski boat with the built-in ladder on the transom or a great first wooden boat! Price reduced to sell!

ID: ENCORE
Year: 1960
Builder: Century
Model: Resorter
Length: 19ft
Engine: Ford Interceptor, 250 hp
Trailer: None
Price: $19,500.00

Get More Info.