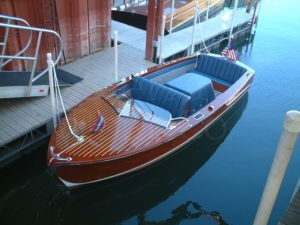 Utility, like the name implies, the utility type boat has more usable space and is more versatile than a comparably sized runabout type boat. The reason is an open floor plan, usually consisting of a front bench seat, the engine under a box and a bench seat in the rear. Larger models may have a middle seat as well. They are easy to get around in and have floor space to stow, skis, ice chests, dogs etc. Think of it a a family station wagon. with a proper power, they are also suitable for watersports, including water skiing and wakeboarding.
Showing 1–16 of 18 results
1950 Chris Craft 23ft Holiday

$

50,000.00

1950 Chris Craft 23ft Holiday

$

50,000.00

1950 Chris Craft 23ft Holiday.

Chris Craft was founded in the late 19th century by Chris Smith and became famous for its mahogany hulled powerboats from the 1920's through the 1950's. They built many different sizes and types of boats ranging from utility style to full race boats.

This Chris Craft is 1 of 88 23′ Holidays that the company built from 1950-1952. The hull # is H-23-005, making it one of the first few 23' Holiday's built. The boat is powered by a Marine Power 260 hp engine with a Holley carburetor. The engine has only 70.5 hours on it and had a complete tune up in 2016.

This boat features a no soaking epoxy bottom that is in excellent condition. In the winter of 2018/2019 the decks, coverboards, and transom were stripped, stained and re-varnished by Sierra Boat. This boat came to Sierra Boat in the spring of 2016 and has been kept in a slip for each summer season including now where it currently resides.

The combination of blonde and dark rich Philippine mahogany, teak floors and perfect plush red upholstery is truly a must see!

ID: HOME AGAIN
Year: 1950
Builder: Chris Craft
Model: Holiday
Length: 23ft
Engine: Marine Power, 260 hp
Trailer: None
Price: $50,000.00

Get More Info.