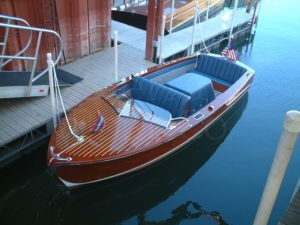 Utility, like the name implies, the utility type boat has more usable space and is more versatile than a comparably sized runabout type boat. The reason is an open floor plan, usually consisting of a front bench seat, the engine under a box and a bench seat in the rear. Larger models may have a middle seat as well. They are easy to get around in and have floor space to stow, skis, ice chests, dogs etc. Think of it a a family station wagon. with a proper power, they are also suitable for watersports, including water skiing and wakeboarding.
Showing all 7 results
1952 Chris Craft 27ft Semi Enclosed Cruiser

$

75,000.00

1952 Chris Craft 27ft Semi Enclosed Cruiser

$

75,000.00

1952 Chris Craft 27ft Semi Enclosed Cruiser

Delivered to a Los Angeles auto dealer in 1952, this 27ft Chris Craft Semi Enclosed Cruiser was moored at Newport Harbor for roughly 40 years.  Her primary purpose was to carry her multiple owners to and from Catalina Island.

Derelict and in need of a new purpose, she was purchased in 1992 and was completely restored to her original beauty, named Viking, and brought to Lake Tahoe.  Her Tahoe debut was at the 1994 Concours where she won 2nd place and the Richard Clark Perpetual Award for Grace, Style and Excellence. She won a 2nd place again in 1995 at the Concours and a 3rd place at the 2003 Concours. In 2001, Viking was honored with the People's Choice award at the ACBS Tahoe Keys Show and in 2005 was honored with the Kids Choice award.

The restoration in 1992 included an epoxy glass bottom and new, Chevrolet V-8 engines. This is a very attractive and practical day-use boat. It has plenty of seating for a large group, plus a sink and refrigerator. At only 27ft, it is small enough to be trailered but is ideally suited to Lake Tahoe and its rough waters.

https://www.chriscraft.com/our-story/timeline/

ID: VIKING
Year: 1952
Builder: Chris Craft
Model: Semi Enclosed Cruiser
Length: 27ft
Engine: Twin 350 Chevrolet, 300 hp ea.
Trailer: V/M 27' Tandem
Price: $75,000.00

Get More Info.