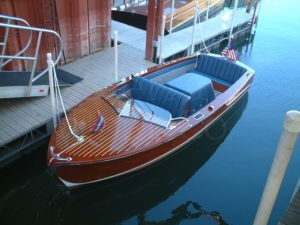 Utility, like the name implies, the utility type boat has more usable space and is more versatile than a comparably sized runabout type boat. The reason is an open floor plan, usually consisting of a front bench seat, the engine under a box and a bench seat in the rear. Larger models may have a middle seat as well. They are easy to get around in and have floor space to stow, skis, ice chests, dogs etc. Think of it a a family station wagon. with a proper power, they are also suitable for watersports, including water skiing and wakeboarding.
Showing all 8 results
1949 Hacker Craft 22ft Utility

$

65,000.00

1949 Hacker Craft 22ft Utility

$

65,000.00

1949 Hacker Craft 22ft Utility

Hacker Craft's have been hand crafted since 1908 with John L. Hacker being the preeminent naval architect of mahogany pleasure crafts of the last century. Hacker Crafts are considered one of the most authentic American-made brands to this day.

This 1949 Hacker Craft 22ft Utility was limited in production making it rare. It has been said that only 3 of these models exist today. The high quality of construction is consistent with other post war Hacker Crafts produced at that time. The 22ft Utility offers three rows of seating making the layout perfect for cocktail cruising with guest or family adventure on the water.

This 1949 Hacker Craft 22ft Utility is powered by a Chrysler Marine M28 with around 180 hp. This engine performs extremely well with plenty of torque.

In the winter of 2008-2009, Sierra Boat Co. restored the decks, hull sides, transom, and interior bright work as well as new flooring. In 2019 the boat received new bottom paint. This boat features a West System no-soak bottom and is used each summer out of a slip at Sierra Boat Company.

Hacker-Crafts are known for a very comfortable ride, even in rough waters. Don't miss out on this opportunity to own a very rare Utility Hacker-Craft!

https://youtu.be/3–GVy8r9c4

ID: SASHAY
Year: 1949
Builder: Hacker-Craft
Model: Utility
Length: 22ft
Engine: Chrysler Marine M28, 180 hp
Trailer: None
Price: $65,000.00

Get More Info.