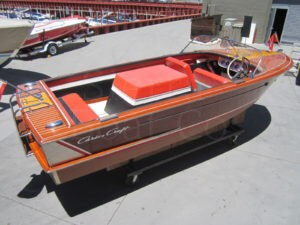 19′ and Under Utility boats are perfect for the person getting started in the Antique and Classic Boat hobby. They are usually priced much lower than comparably sized Runabout models and are easier to take care of. They are easy to trailer and with correct power, are well suited to watersports. They typically have a front and back bench seat with a motorbox in the middle. Seating capacity will be 5 to 6 persons.
Showing all 5 results
1946 Gar Wood 19ft Utility – SOLD

$

60,000.00

1946 Gar Wood 19ft Utility – SOLD

$

60,000.00

This special boat is a 1946 Gar Wood 19ft Deluxe Utility.

In 1945 as World War II wound down to its final campaigns the new management of Gar Wood Industries decides to restyle their boat line with a complete new look. The new designs were superb and worthy of the great Gar Wood tradition. This 1946 Gar Wood is fully restored and in excellent condition. The boat has a West Systems bottom on it. It has a Chrysler Crown M47 engine with 135 hp. The blue and grey leather upholstery is in very good condition with matching grey flooring. This is a unique opportunity to get into a turn key Gar Wood Utility!

ID: THAT TOO
Year: 1946
Builder: Gar Wood
Model: Deluxe Utility
Length: 18'6''
Engine: Chrysler Crown M47 135 hp
Trailer: None
Price: $60,000

Get More Info.