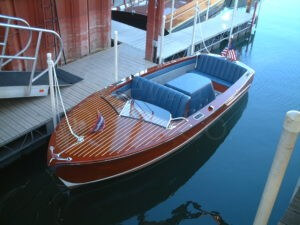 Utility, like the name implies, the utility type boat has more usable space and is more versatile than a comparably sized runabout type boat. The reason is an open floor plan, usually consisting of a front bench seat, the engine under a box and a bench seat in the rear. Larger models may have a middle seat as well. They are easy to get around in and have floor space to stow, skis, ice chests, dogs etc. Think of it a a family station wagon. with a proper power, they are also suitable for watersports, including water skiing and wakeboarding.
Showing 1–16 of 18 results
1935 Hutchinson 36ft Commuter Sedan

$

315,000.00

1935 Hutchinson 36ft Commuter Sedan

$

315,000.00

1935 Hutchinson 36ft Commuter Sedan.

Hutchinson Brothers Boat Works, Inc. was founded in Alexandria Bay, New York in a rented building in 1902. A true family business, all four Hutchinson brothers (James Herbert, George, Thomas and Joseph) as well as eleven to sixteen other men worked day after day to build exceptionally crafted mahogany planked boats ranging from 19′ utility boats to 48′ runabouts. From 1902 to 1964, it is said that Hutchinson built over 250 boats including houseboats, racing boats, launches, utilities, sedans, cruisers, runabouts and even boats for the war effort, many of their own design but some based off the designs of other famous manufacturers. They remain very tasteful and more exclusive alternatives to some of the more common Hacker and Chris Craft brands, but arguably just as stylish and with craftsmanship second-to-none!

Columbia is powered by a Mercruiser 8.1S HO with 420 hp. It has an original bottom on it that will soak up. The black sedan top is in excellent condition. The upholstery, deck and hull side varnish, and flooring are in good condition. This sedan commuter has a wonderful inside cabin with a very sociable seating arrangement. It features a driving cockpit in front of the cabin and behind the cabin are two bench seats to enjoy the sun!

Columbia has been in the care of Sierra Boat Company for more than 30 years. This boat has been maintained properly with all service records available.

http://tilife.org/BackIssues/Archive/tabid/393/articleType/ArticleView/articleId/587/PageID/620/Hutchinson-Boat-Works.aspx

ID: COLUMBIA
Year: 1935
Builder: Hutchinson
Model: Sedan Commuter
Length: 36ft
Engine: Mercruiser 8.1S HO, 420 hp
Trailer: None
Price: $315,000.00

Get More Info.