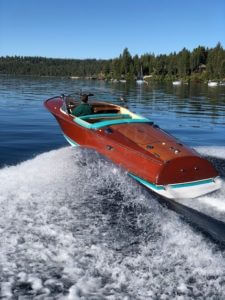 Riva, the name represents the finest of Italian style and craftsmanship. With a tradition of boatbuilding , spanning over 170 years, the brand has a heritage like no other.
In the 1950's Carlo Riva set about to build series produced boats, manufactured in a state of the art factory. Nothing was compromised in the quality of their construction. Perhaps the crowning achievement of this effort was the production of the iconic Aquarama. First produced in 1962, they are the most collected and prized of any mahogany boat. These boats are often compared with Rolls Royce and Ferrari due to their high quality.
Carlo always looked for the finest materials available, which included America built marine engines and German made gauges. New designs were subject to rigorous testing, often by Carlo personally.
To this day, nothing quite performs, rides or handles quite like a Riva. They are extremely well-built and reliable. And no other mahogany boat appreciates in value like these boats do.
Sierra Boat has been importing, maintaining and restoring Riva boats since the late 70's. Perhaps no other company in North America has as much experience with these boats as we do.
Showing all 4 results
1967 Rio Super Colorado 28

$

250,000.00

1967 Rio Super Colorado 28

$

250,000.00

1967 Rio 28ft Super Colorado.

"Avionautica Rio" was then founded in 1961, building beautiful motorboats in mahogany with Chris Craft and Rolls-Royce engines along with striking model names such as Colorado, Paranà, Bonito, and Espera. Since the early 1960's, Rio boats made from mahogany have been sailing the Mediterranean to reach every market throughout Europe. These motorboats were built with great skill and wisdom during a period that culminated in an agreement with Rolls Royce to build a model carrying a V8 engine, the ultimate expression of two prestigious brands. Check out the history at Rio Yachts, https://www.rioyachts.net/en/50-anni-di-storia/

The Rio shipyard was originally just down the street from the famed Riva shipyard. The influence of the Riva brand is evident in the Colorado, taking many styling clues from the iconic Aquarama. True to all things Italian, the Rio boats are highly crafted works of art. Rio's should be seen as a different brand than Riva, just as Lamborghini is different from Ferrari, not inferior just different.

The example listed here is the only known to exist 1967 Rio 28ft Super Colorado in the US, and one of only a handful of Rio's in this country. The "super" designation is due to the use of "Big Block" engines, in this case a pair of Chrysler Marine 440's. It is not known how many Colorado's were built, but it is estimated that the numbers were very low, and certainly the Super is rarer still. The hull number is 035, which assumes it is the 35th built.

Sierra Boat has been the primary caretaker of this boat since its restoration in the mid 90's. It has been well taken care of and was recently completely re-varnished and the engines were totally re-built.

This is a perfect boat for Tahoe and capable of handling rough water with ease.

ID: La Bella Vita
Year: 1967
Builder: Rio Yachts
Model: Super Colorado
Length: 28ft
Engine: Twin Chrysler 440 cu in, 330 hp
Trailer: 1991 V/M Custom Tandem
Price: $250,000.00

Buy product