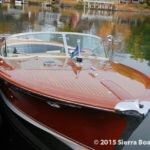 QUATTRO is Riva Aquarama 4, of 1963, and is the VERY FIRST Aquarama to be constructed with laminated hull sides, rather than individual planking. QUATTRO retains these original hull sides today. From Aquarama 4 forward, all Aquaramas had laminated hull sides.
Aquarama #1 was the famous LIPICAR built for Ing. Carlo Riva on the hull of Tritone 214, and Aquaramas 2 & 3 were still constructed with conventionally planked hulls in the fashion of the Tritone.
Aquarama #4 Was initially restored by the Riva family's RAM facility in 2003. Sierra boat restored original 185 HP Chris Craft motors , using 350 CID blocks, and maintained their correct original configuration. It has been completely refinished by Alan Weinstein Associates in 2013, along with the restoration of any indicated section/component.
QUATTRO is in superb turn key condition and ready to use or show. At the present time the hour meters show approximately 133 hours of fresh water use. 13 of these hours are since 2013.
Included with this special Riva are the normal Riva accessories, bathing ladder, water ski pole, sun mattresses, compass, docking lights, flag pole & flag, Riva pennant, cabriolet top, etc. as well as a custom 2003 Patriot tri-axle  trailer.
Year : 1963
Price : $575,000
Builder : Riva
Length : 26′ 3″
Trailer : Patriot tri-axel
Model : Aquarama