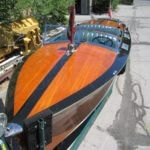 1930 Gar Wood 28 Triple Cockpit Runabout. Tamarack is a model 28-40 originally sold by Obexers Boat Co. the 28-40 designation means that it is 28 feet long and does 40 MPH with the 200 hp model 202 Scripps.
"Tamarack has a long history on Lake Tahoe. After changing hands a few times in her early years, she came into the possession of the family of legendary shipping line owner Captain Robert Dollar in 1949 when Robert Stanley Dollar Sr. purchased the runabout for his daughter Diana, who used the boat during her summer stays at Lake Tahoe.  The family's businesses included the timber and steamship industries; in 1927 they built their Tahoe estate on the North Shore in the area now known as Dollar Point.  The Dollar family (particularly R. Stanley Dollar. Jr.) is well known in Tahoe boating circles and is featured in exhibits at the Tahoe Maritime Museum  Tamarack comes with an iconic Dollar Steamship Company pennant.
The boat hasn't ever been fully restored, rather it had received expert maintenance over the years, primarily at Sierra Boat Co. All of the wood is original. The bottom was fiberglassed in the late 60's, which probably helped in the preservation. Sierra re-fiberglassed the bottom in the 90's. It currently has a mid 60's vintage 330 hp 440 Chrysler, but the original Scripps 202 goes with the boat and can be easily installed. The green upholstery is leather. It comes on a custom built trailer.
Year : 1930
Price : $175,000
Builder : Gar Wood
Length : 28′
Trailer : 2007 DHM tandem
Model : 28-40 Triple Cockpit