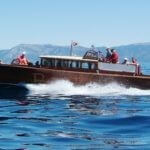 1929 Chris Craft custom Commuter 38. The custom Commuter was Chris Craft's first cruiser type boat. The commuter name comes from the use of this type of boat to "commute" from Long Island sound to Manhattan. At the time, the only boats available were custom built boats, and Chris Craft saw an opportunity to build a production boat for fill the demand. 65 examples were built from hull no. 5001 to no. 5065, most of them in 1929, before the depression killed demand. Dat-So-La-Lee is number 15 in the series.
This boat was fully restored in 1991 and has received additional work in later years. Most notably, the bottom was fully replaced with the 5200 style bottom and the engine was changed out to a modern Mercruiser 496. The boat comes with a fully re-built Chris Craft A-120, which was the original engine used after restoration, but is not the original engine to the boat. The original engines in 1929 were the A-70 engine of a similar design.
The boat is very original and still has the correct head with a pull down pullman style sink. The main modification was the conversion of double bunks to a table and benches. Otherwise, every attempt was made to retain originality throughout, using original factory drawings as our guide.
Year : 1929
Price : $375,000
Builder : Chris Craft
Length : 38′
Trailer :
Model : Custom Commuter